Wiring Harnesses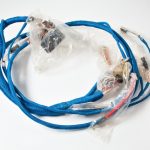 American Cable is a manufacturer of custom made harnesses. From 2 wires up to 250 wires. American Cable supplies harnesses with all different type of protections, like braiding, convoluted tube etc.
American Cable offers our customers a unique product ready-to-fit for all kind of appliances.
Our harnesses are used in, Agricultural Equipment, Articulated Vehicles, Buses, Heavy and Light Construction Equipment , Diesel Engine / Transmission Systems, Electric Vehicles, Forklift Trucks, Mining Equipment etc.

Please contact us for any inquiry.
Please click on the products images below to see Wiring Harnesses:
[nggallery id=14]
[Back to Products]